Garland County is served by seven public school districts. Four of the seven Garland County schools are ranked in the top 20 percent of the state. Hot Springs is also home to the Arkansas School for Mathematics, Sciences and the Arts, a residential high school specializing in the education of gifted and talented students from across the state.
Read what makes each public school unique
If you're looking to start a new career or gain new skills, National Park College in Hot Springs offers dozens of associate and technical degrees as well as classes for non-degree-seeking students.
National Park College recently announced a partnership with Southern Arkansas University allowing students to obtain Bachelor's Degrees at the NPC campus right here in Garland County. Beginning Fall 2019, degrees in Computer Science, Biology Pre-Health, and Biochemistry Pre-Health will be available beginning on the NPC campus.
Located just 35 miles away, Henderson State University and Ouachita Baptist University are two university options. Henderson State University in conjunction with National Park College recently opened a Henderson State University campus in downtown Hot Springs. At HSU Hot Springs you can earn a Bachelor of Business Administration Degree in Accounting or Management, a Bachelor of Science in Education Degree in Elementary Education or Middle-Level Language Arts/Social Studies. You can also earn a Master of Business Administration.
Public Schools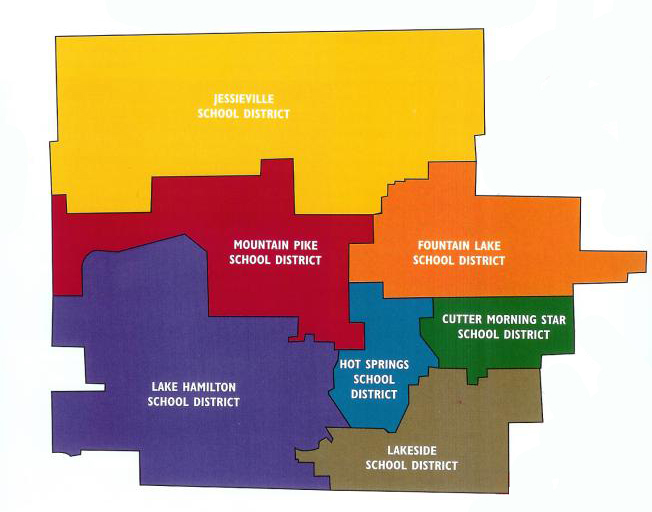 Cutter Morning Star School District
Hot Springs School District
Fountain Lake School District
Jessieville School District
Lake Hamilton School District
Lakeside School District
Mountain Pine School District
Arkansas School for Math, Science and the Arts
Private Schools
For families seeking private alternatives, several options are available running the gamut in curriculum and ancillary programming.

First Baptist Preschool
St. John's Catholic School
St. Luke's Episcopal School
Higher Education
National Park College
Henderson State University
Ouachita Baptist University
​Champion Christian College